On Friday morning, July 27th, I heard the sound of a wood chipper in my neighborhood and I thought of the Ash trees in Glen Armil Park.  I wandered over to the park for a visit and sure enough, the Ash trees were under attack by a marvel of modern technology.  Rainey Tree Service of Moline has been hired by Davenport to aid in the removal of Ash trees on public property.  Nine trees in our park were marked for removal back in March (See story earlier on this site.)  Back in the spring the city removed one of the nine infected trees but left the majority standing.  "For safety reasons," the Rainey employee said, "we are removing all of the marked trees in the park."
The new boom truck of Rainey Tree Service allows a 2 man crew to do the work of several more employees and easily remove five trees in one day.  No one climbs into the trees and the long reach of the boom allowed the truck to do the heavy lifting.  Some of the limbs the boom had a hold of must have weighed several hundred pounds.  The boom manipulated the limbs handily to a point right in front of the chipper.  By repositioning the boom the operator was able to push the limb right into the chipper.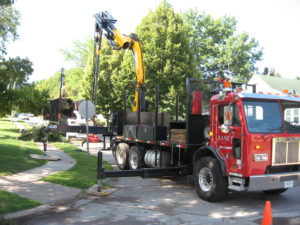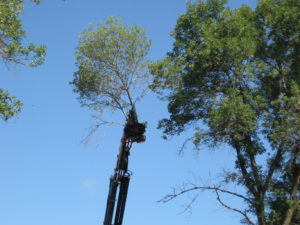 The work continued through August.