Wilma Hauser was a charter member of GANA and a current member, I believe. She attended many of our meetings and would apologize if we scheduled a meeting on a Monday as she had a standing commitment on Monday evenings.  Short of serving as an officer, she was as faithful member of Glen Armil Neighborhood Association as we had.  Her obituary is summarized below and it epitomized the quality of residents of our great neighborhood.  Thank you QC Times for providing the obituary.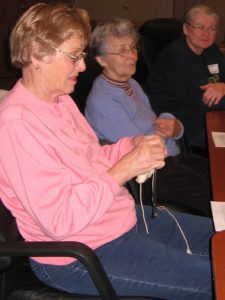 Funeral services and a Memorial Mass of Christian Burial for Wilma Hauser, 87, a resident of Davenport, will be 10 a.m. Wednesday, August 2, 2017, at St. Anthony's Catholic Church, 417 N. Main St., Davenport. Inurnment will be Rock Island National Cemetery, Arsenal Island. The family will greet friends Tuesday at the Halligan McCabe DeVries Funeral Home, 614 Main St., downtown Davenport from 4-7 pm. Following the visitation, cremation rites will be accorded.
Wilma died unexpectedly Tuesday, July 25, 2017, while snorkeling. She was on a vacation near the Galapagos Islands in South America.
Along with raising five children, she worked as secretary to former Davenport Mayor Kathryn Kirschbaum, executive secretary at First Federal Savings and Loan, and as a communications manager for the Congregation of the Humility of St. Mary. She also volunteered extensively throughout the Quad-Cities, including serving on the board of Project Renewal. Every Thanksgiving, she would cook and deliver a turkey for Father Conroy's Vineyard of Hope in downtown Davenport. She also sang in the choir at St. Anthony's Catholic Church.